Healthy eating around the holidays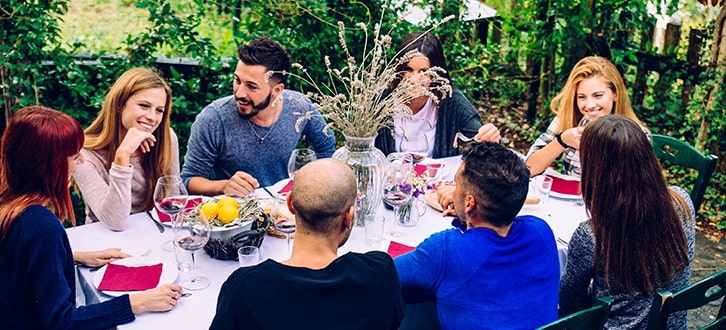 Holiday meals are a traditional time to enjoy friends, family and food, but too much of a good thing can disrupt your diet or diabetes meal plan. There are things you can do before, during and after a big holiday meal to make sure you stay on track.
Before dinner
• Don't skip breakfast. You might want to save calories for the main event, but think twice. Skipping meals may make it harder to control your blood sugar and make it easier to overeat at dinner.
• Snack smart. Fill a small plate with the appetizers you like, then walk away from the table to avoid grazing. Vegetables like broccoli, baby carrots, cauliflower and tomatoes are great guilt-free snacks.
• Stay active. Play a game with your family, take your regular exercise class or go for a brisk walk during the day.
• Take extra care with your blood sugar. You might want to check your blood sugar more often on days when you expect to attend a party or group meal.
• Watch the time. Holiday dinners are often held at odd hours of the day, such as in the middle of the afternoon. You may want to have a snack at your normal meal time to make sure your blood sugar doesn't get too low.
During dinner
• Take it slow. You might not feel full, but it takes at least 20 minutes for your brain to figure out when you are.¹ Try to maintain a relaxed pace, and give yourself 10 minutes to chat before going back for seconds.
• Take it easy with starchy foods. Bread and potatoes are holiday favorites but high in carbs. Try picking one of your favorites or smaller portions of a few.²
• Choose healthier versions of foods you like. If you're bringing a dish, try substituting healthier ingredients or cooking methods. For instance, opt for steamed vegetables over ones cooked in butter or oil.
• Drink responsibly or not at all. If you plan on having an alcoholic drink, have it while you're eating and drink a glass of water or seltzer between drinks. Alcohol can lower your blood sugar and interact with diabetes medications.³
• Enjoy yourself. Don't let your meal plan become a burden. You'll be more likely to stick to it if you make space for the foods you really like.
After dinner
• Pick the right dessert. Choosing pumpkin pie over pecan pie can save you precious calories and sugar.
• Clear the table. Once everyone's finished eating, put the leftovers away so you won't be tempted to snack on them later.
• Sleep well. Not getting enough sleep can make it harder to control your blood sugar and make it easier to overeat, especially foods high in fat or sugar.⁴ Try to get 7 to 8 hours of sleep each night so you're rested for the next party.
• Take it easy. Don't beat yourself up if you eat too much at a party. Just try your best to get back on your meal plan and make time for some extra exercise.
This material is provided for informational use only and should not be construed as medical advice or used in place of consulting a licensed medical professional. You should consult with your doctor to determine what is right for you.
Sources:
"5 Healthy Eating Tips for the Holidays," Centers for Disease Control and Prevention, November 30, 2017, last accessed September 7, 2018, https://www.cdc.gov/features/diabetesmanagement/index.html.
"Holiday Season Eating for People With Diabetes," American Association of Diabetes Educators, last accessed September 7, 2018, https://www.diabeteseducator.org/docs/default-source/legacy-docs/_resources/pdf/general/AADE_Holiday_toolkit.pdf.
"5 Healthy Eating Tips for the Holidays."
"5 Healthy Eating Tips for the Holidays."