Introducing the CenterWell Specialty Pharmacy Neuromuscular Center of Excellence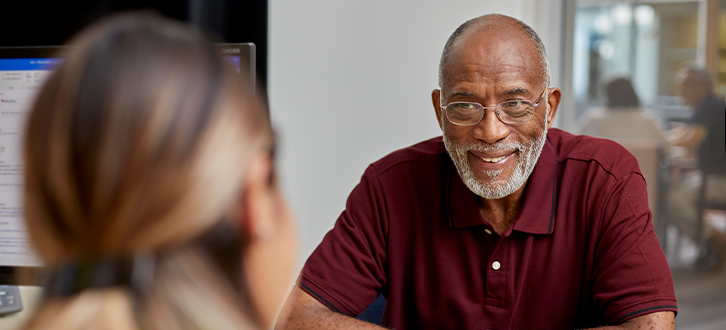 CenterWell Specialty Pharmacy
offers extra support to those with chronic conditions

At CenterWell Specialty Pharmacy®, we know a neuromuscular disease diagnosis brings a lot of physical and emotional changes and challenges. And we know this health journey is different for each patient. That's why we work to give you and your loved ones the resources and information you need, regardless of whether or not you have Humana insurance.

As you continue to learn more about your diagnosis, CenterWell Specialty Pharmacy and our team of clinical experts are here to answer any questions. We do more than just fill prescriptions. We offer support, help remove barriers to care, listen to your personal experience and collaborate with your doctor and healthcare team to design a unique treatment plan.
What the Center of Excellence can do for you
Expert clinical advice
Our nursing and pharmacy staff are trained specifically in the care of patients with neuromuscular disorders and can explain dosages, flag interactions and answer your questions, including how to administer various medications. Our clinical team works to improve quality of life for our patients with our robust patient education program.
Emotional support
A social worker dedicated to your care forms a personal relationship with you to monitor your emotional well-being and will provide support through your illness. The social worker will serve as an advocate to help patients resolve issues, provide counseling and refer patients or families to other resources or services that may provide support.
Patient care coordinators keep your treatment on track
Managing a chronic illness is a full-time job, but it doesn't have to completely replace your daily routines. You'll have your own dedicated patient care coordinators looking out for you and helping manage your treatment. They'll call to make sure you get your medicine refills, and where you need them—at home, work or your doctor's office.
Financial assistance specialists help you manage the cost
Maintaining your health with specialty medications is expensive. That's why the Center of Excellence offers financial assistance specialists who can help you find patient financial assistance programs from manufacturers or charitable organizations that may help pay the cost of your medicines. And if you're eligible for an assistance program, our specialists can also help you complete the application paperwork.
Contact us to learn more
The CenterWell Specialty Pharmacy Neuromuscular Center of Excellence can provide you with the personalized care you need to manage your complex illness. For a personal phone consultation, call CenterWell Specialty Pharmacy at 855-425-3994 (TTY: 711). We're available Monday – Friday, 8 a.m. – 11 p.m., and Saturday, 8 a.m. – 6:30 p.m., Eastern time.