Communications and other preferences
It's important to set your CenterWell Pharmacy® communication preferences so we know how and when to contact you about your prescriptions.
Want to learn more? Watch the video →
To set or update your communication preferences, simply sign in to your CenterWell Pharmacy account and find "Account" on the main navigation bar. Then, select "Communication preferences" from the "Account" drop-down.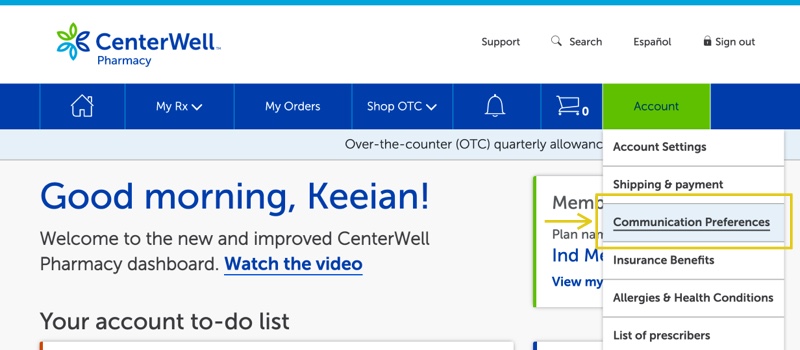 Communication preferences
From your "My communications preferences" page, you can sign up for text alerts about your prescription medicines (not available in Spanish). To do this, enter your phone number in the first blank space and select "Submit." Then, confirm your selection by entering your confirmation code in the second blank space. You have 10 minutes to do this before your code expires.
From your "My communication preferences" page, you can also tell us if you'd like to be contacted about:
Refill reminders
Order updates
Order delays
Important health and prescription information
If you'd like to receive messages from CenterWell Pharmacy regarding any of the above information, we can contact you by phone, text message or email.
To do this, select the box that reflects how you'd like to be contacted. For example, if you'd like to receive an email when it's time to refill your medicines, check the email box next to "Refill reminders."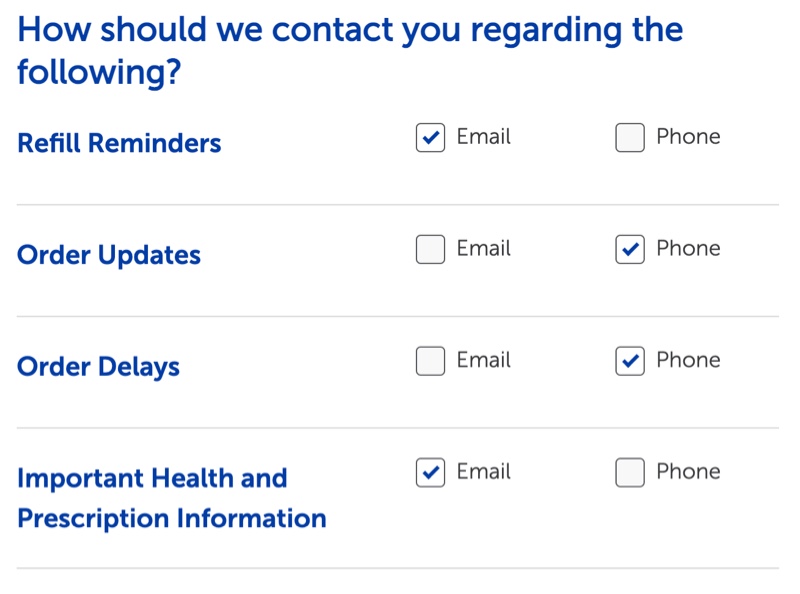 Once you're done, don't forget to select "Save preferences" at the bottom of your screen. After you've set your preferences, it can take up to 72 hours to start receiving communications from us.
Other preferences
You can also set account-related preferences from your "account settings" page such as:
The type of bottle cap you'd like for your prescriptions—easy open or child-proof
Accept or deny the inclusion of your medicine names in emails
Set custom high copay alerts for your medicines
Similar to the steps above, select the box that reflects your decision and save your changes to set your account preferences.
Get started by setting your preferences now.
--
CenterWell Pharmacy® 2022
CenterWell Pharmacy complies with all applicable federal civil rights laws and does not discriminate on the basis of race, color, national origin, age, disability, ancestry, sex, sexual orientation, gender, gender identity, ethnicity, marital status, religion, or language. We also provide free language interpreter services. See our full accessibility rights information and language options.
Florida residents can research healthcare information and compare drug prices, pharmacies, hospitals and doctors, by going to FloridaHealthFinder.gov.
As used in connection with insurance products and services, "Humana" is the brand name for insurance products and services provided by one or more of the Humana group of insurer and health plan subsidiary and affiliate companies (each, a "Humana Ins. Sub."). Insurance products and services are solely and only provided by the one or more Humana Ins. Subs. specified on the insurance policy, not Humana Inc. Not all insurance products and services are available in each state.
You can expect to receive first time orders within 7 to 10 days after we get your prescription. You can expect your refills to arrive 5 to 7 days after placing your order. If you don't receive your medication-or just want to check on your order-you can call CenterWell Pharmacy at 1-800-379-0092 (TTY: 711), Monday to Friday 8 a.m. to 11p.m. and Saturday 8 a.m. to 6:30 p.m. Eastern time.
Image Terms of Use
CONDITIONS OF USE: The information in this database is intended to supplement, not substitute for, the expertise and judgment of your healthcare professional. The information is not intended to cover all possible uses, directions, precautions, drug interaction or adverse effects, nor should it be constructed to indicate that use of particular drug is safe, appropriate or effective for you.
The information is generalized and not intended as specific medical advice. Consult your healthcare professional before taking any drug, changing your diet or commencing or discontinuing any course of treatment. Terms of Use
Selected from data included with permission and copyrighted by FDB, Inc.
This copyrighted material has been downloaded from a licensed data provider and is not for distribution in professional healthcare setting.