Communications and other preferences
It's important to set your CenterWell Pharmacy™ communication preferences so we know how and when to to contact you about your prescriptions.
To set or update your communication preferences, simply sign in to your CenterWell Pharmacy account and find "Account" on the main navigation bar. Then, select "Communication preferences" from the "Account" drop-down.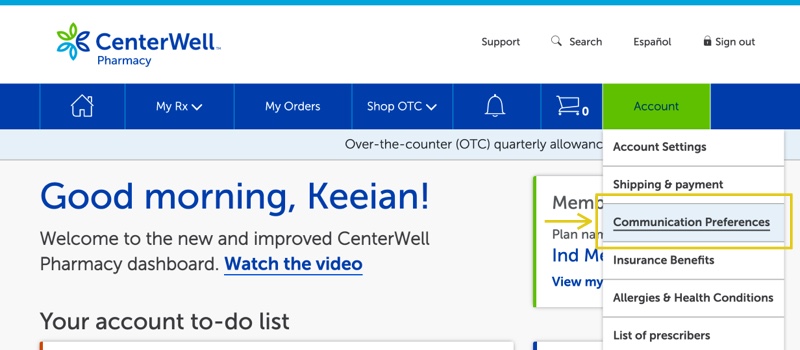 Communication preferences
From your "My communications preferences" page, you can sign up for text alerts about your prescription medicines. To do this, enter your phone number in the first blank space and select "Submit." Then, confirm your selection by entering your confirmation code in second blank space. You have 10 minutes to do this before your code expires.
From your "My communication preferences" page, you can also tell us if you'd like to be contacted about:
Refill reminders
Order updates
Order delays
Important health and prescription information
If you'd like to receive messages from CenterWell Pharmacy regarding any of the above information, we can contact you by phone, text message or email.
To do this, select the box that reflects how you'd like to be contacted. For example— if you'd like to receive an email when it's time to refill your medicines, check the email box next to "Refill reminders."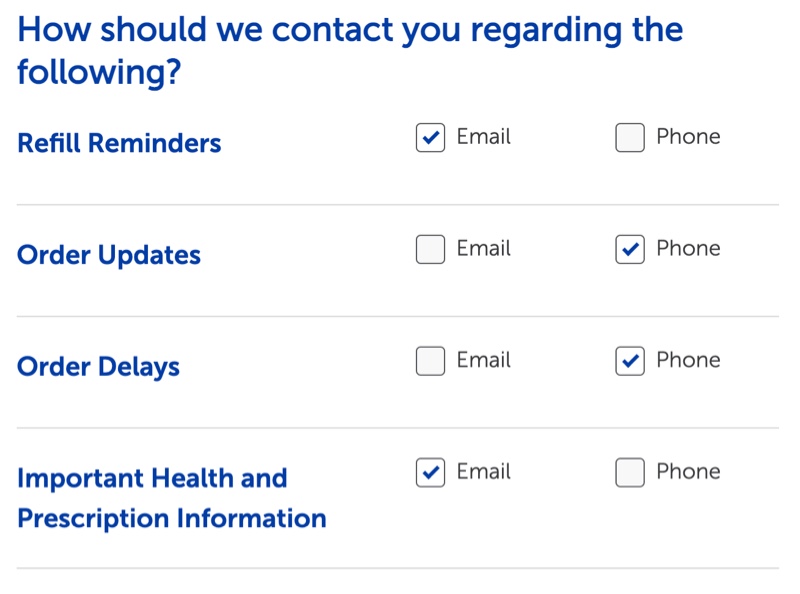 Once you're done, don't forget to select "Save preferences" at the bottom of your screen. After you've set your preferences, it can take up to 72 hours to start receiving communications from us.
Other preferences
You can also set account-related preferences from your "account settings" page such as:
The type of bottle cap you'd like for your prescriptions—easy open or child-proof
Accept or deny the inclusion of the your medicine names in emails
Set custom high copay alerts for your medicines
Similar to the steps above, select the box that reflects your decision and save your changes to set your account preferences.
Get started by setting your preferences now.