Medication reminders are now available in the CenterWell Pharmacy mobile app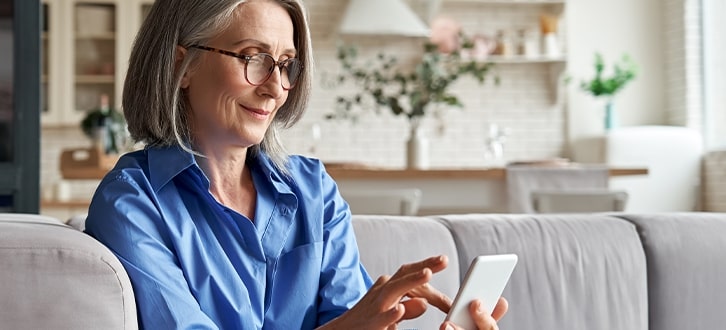 We're always working to make the CenterWell Pharmacy® app easier to use and better suited to your health needs. Whether you take many medications every day or just 1 a couple times each week, the latest update to our mobile app is for you.
Med reminders help you keep track of when to take your CenterWell Pharmacy prescriptions. You can set up as many reminders as you need for as many medicines as you take, and change your reminders at any time to suit your schedule.
When it's time for you to take your medicine, you'll get a friendly notification on your device to remind you. Just make sure your device is set up to receive notifications!
If you change time zones, we'll let you know in the app. We'll also automatically adjust your reminders to your current local time. Read on to learn more about how med reminders work.
Note: The CenterWell Pharmacy mobile app and med reminders feature are not available in Spanish.
How to set up medication reminders
To start, open the mobile app and sign in. On your home screen, select "Add med reminders" to set up your first reminder. Once you've saved at least one reminder, this button will say "Manage med reminders."
iOS experience shown. Android experience may differ.
If you have dependents, we'll start by asking if the reminder is for you or someone else. Otherwise, we'll skip right to the next step: showing all of the prescriptions you're taking at CenterWell Pharmacy. Here, we'll ask you which one you'd like to set reminders for first.
Set up reminders to appear every day, on specific days of the week or once a month. You can set reminders for the morning, afternoon, evening and bedtime—and add special instructions, too.
Once you've added all the necessary details, like when you take your medicine and whether you take it with food or water, select "Save." That's it!
From here, you can add more reminders, view all of your reminders on 1 screen or select "Transfer a prescription" to move medicines you're filling at other pharmacies to CenterWell Pharmacy. You'll be able to set reminders for every medicine you transfer to us.
You can also come back to add or edit your reminders at any time.
When you get a reminder notification on your device, simply tap the message to open the app and mark that you've taken or skipped your dose. It's that easy!