A guide to traveling with medications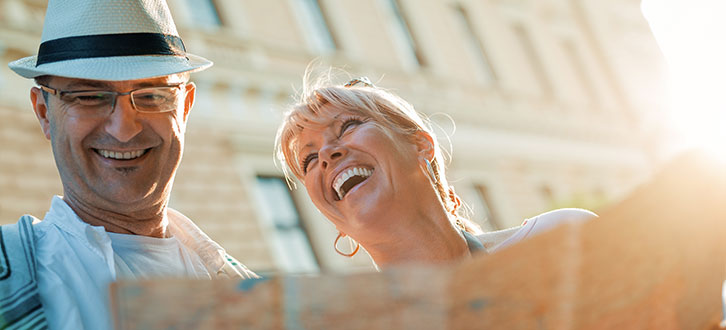 If you take medications to manage a chronic health condition like diabetes or heart disease, it's normal to have questions about how to travel with them. The same can be true if you're taking medications to treat a short-term (acute) health condition like a cold or back pain. Whatever your situation is, we understand traveling with medications can be stressful.
As we enter the warmer months, we know you may have travel plans. So to help you prepare, we'll answer common questions about traveling with medications, such as:
How should I pack my medications?
Can I bring liquid medications through airport security?
Should I refill my medications before my trip?
How can I get medication in an emergency situation?
There's no need to worry about traveling with medications. All it takes is a little preparation on your part and communication with your prescriber and pharmacy.
Read on for some easy-to-follow tips on how to travel with your medications.
Packing your medications
If you're traveling by air: in addition to medications in pill form, you can bring up to 3.4 ounces of medication in liquid, gel, cream, aerosol or paste form through security. The Transportation Security Administration (TSA) recommends placing medication in a resealable quart-sized bag within your carry-on luggage.¹ This makes it easier for medication to be screened by security.
It also helps you easily reach your medication in case of an emergency. And if your checked baggage is lost, you'll still have your medication. Another benefit of packing medication in your carry-on is that it will be protected from hot or cold temperatures that may affect how it works.² Learn more about how certain temperatures affect your medication. Please be aware that any medication in non-pill form that's more than 3.4 ounces must be placed in your checked baggage.
If you're traveling to another country, we recommend having a letter from your prescriber that says why you need the medication you're carrying. This is especially true for controlled substances that are commonly abused, such as opiates, barbiturates or benzodiazepines. To ask for your letter, call your prescriber a few weeks before your trip. You can also use this time to ask your prescriber how much medication you should bring.
For example, your prescriber may recommend you bring a 10-day supply of medication for a 7-day trip in case of an emergency. By doing this, you won't have to worry about running out of the medication.
When going through TSA, keep these tips in mind:
Keep your medication organized and easily accessible in your carry-on bag or luggage.
Be prepared to answer any questions TSA agents may have about your medication.
Get to the airport at least 3 hours before an international (out of the U.S.) flight, and 2 hours before a domestic (within the U.S.) flight to ensure you have enough time to go through security with your medication.
If you're carrying any medication in liquid, gel, aerosol, paste or cream form, you should tell TSA agents before the security check as they may want to X-ray it.³
Some states have their own laws about carrying medication—we recommend you're sure that your medication is in its original, labeled packaging.⁴
Bring enough medication to get through your trip and a little extra for unexpected situations such as delayed flights or bad weather.
Refilling your medications
Refilling your medication early can ensure you have enough to last throughout your trip. Give us a call and let us know if you'd like to refill early because of upcoming travel plans. We recommend calling a few weeks before your trip, as it can take up to 7 days to receive your medication once your order is confirmed.
Please be aware that medications classified as controlled substances such as alprazolam (Xanax®) or tramadol (Ultram®) are ineligible for early refill. This is because these medications have a high risk of physical and mental dependence in people who take them.⁵
Say you forget to pack your medication or it's lost or damaged—you can get a refill if you're in the U.S. Just call your prescriber and explain the situation. They should be able to send a refill of your medication to a local pharmacy near you. If you're going abroad, you should be able to get replacement medication with a valid prescription at a local pharmacy. But it could be costly, as most Medicare and employer-based drug plans don't cover medications outside the U.S. Travel insurance may help cover some of the costs of getting medication outside of the U.S.⁶
Staying on track
Following your daily medication routine while away can be difficult, especially in another time zone. If this is the case, speak with your healthcare provider to create a temporary medication schedule before you leave. You can also set up free medication reminders in the CenterWell Pharmacy® mobile app to help you stick to your routine.
If you have more questions about traveling with medications, you can call us at 800-379-0092 (TTY: 711) Monday – Friday, 8 a.m. – 11 p.m., and Saturday, 8 a.m. – 6:30 p.m., Eastern time. Or you can call your prescriber.
Disclaimer: This material is provided for informational use only and should not be construed as medical advice or used in place of consulting a licensed medical professional. You should consult with your doctor to determine what is right for you.
Sources
"Can you pack your meds in a pill case and more questions answered," Transportation Security Administration, last accessed March 18, 2022, https://www.tsa.gov/travel/travel-tips/can-you-pack-your-meds-pill-case-and-more-questions-answered?_sm_au_=iVV6PLSPvtWvMDNjWTW4vK0p3MfC0.
"How to Manage Your Medications While You Travel," WebMD, last accessed March 18, 2022, https://www.webmd.com/a-to-z-guides/travel-medication.
"How to Manage Your Medications While You Travel."
"Can you pack your meds in a pill case and more questions answered."
"What is a Controlled Substance?" GoodRx Health, last accessed March 25, 2022, https://www.goodrx.com/healthcare-access/medication-education/what-are-controlled-substances.
"Are Medical Supplies Covered by Health Insurance?" Forbes, last accessed March 25, 2022, https://www.forbes.com/advisor/travel-insurance/medical-supplies/.