How to dispose of used needles, syringes and other sharps waste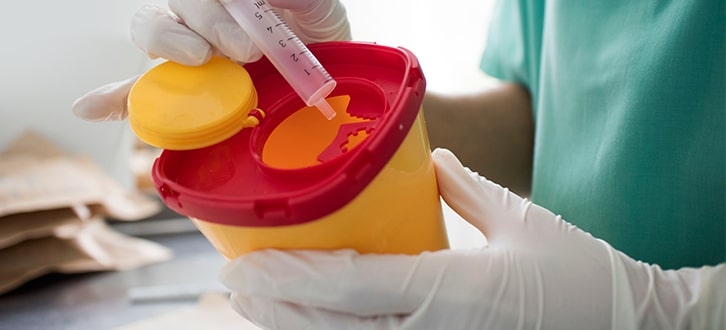 Home-generated biomedical waste is any type of syringe, lancet or needle (also known as sharps) and other devices that are used to enter the skin for the delivery of medications. Special care must be taken with the disposal of these items to protect you and others from injury, and to keep our environment clean and safe.
Based on your therapy, the correct size and type of sharps container can be provided to you by pharmacies, medical supply companies, healthcare providers or online services.¹ Please check with the manufacturer or your city and county for details of disposal programs.
These simple rules will help with your safety:
• Never replace the cap on needles.
• Dispose of used needles, syringes, lancets and other sharp objects into a sharps disposal container immediately after use.
• If a sharps container is not available, a hard plastic or metal container with a screw-on top or other securable lid can be used (for example, an empty liquid detergent container).
• Before discarding, reinforce the screw-on top with heavy-duty tape. Do not use containers made of clear plastic or glass. Containers should be no more than 3/4 full.
Check with your local waste collection service to make sure these disposal procedures are acceptable in your community. Your local health or fire department should be able to provide a disposal policy for these types of items.
You can also visit Safe Needle Disposal for more information.
Source:
"Safely Using Sharps (Needles and Syringes) at Home, at Work and on Travel," U.S. Food & Drug Administration, last accessed February 5, 2019, https://www.fda.gov/medical-devices/consumer-products/safely-using-sharps-needles-and-syringes-home-work-and-travel.