Make getting your medications effortless with mail delivery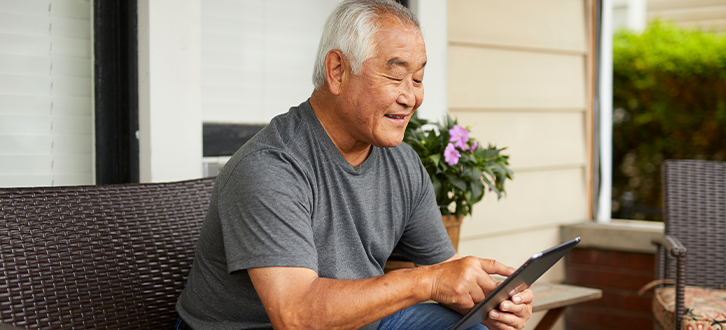 Monthly trips to your local pharmacy can be inconvenient, especially if you're in a rush or don't have reliable transportation. With CenterWell Pharmacy™, mail delivery is safe, convenient and makes staying on track with your medications easy. Read on to learn more about the benefits of mail delivery and why you should make the switch.
Convenience and lower costs
At CenterWell Pharmacy, we know you want convenience and lower costs for your medications. You can easily order your medications by phone, text, web or our mobile app. And you may enjoy $0 copays on certain generic 90-day prescriptions based on your pharmacy benefit.
As we process your order, we'll keep you updated every step of the way based on your communication preferences. And when your order ships, we offer 24/7 order tracking to ensure you always know where your order is. We also offer free standard shipping on mail deliveries. Please note: Real-time order tracking is currently unavailable for specialty medications.
Safety
We understand you may have questions about how safe it is to get your medications in the mail. We can assure you it's safe and secure, and our shipping and delivery partners (FedEx®, UPS®, USPS®) follow the highest ethical standards to protect the quality of your medications.
Before your medication leaves our facility, we do the following:
• Use a state-of-the-art dispensing tool to ensure the quantity and dosage of your medications are correct
• Have 2 licensed pharmacists review your medications for accuracy and drug interactions with other prescriptions you're taking
• Provide discreet tamper-resistant packaging for all medications at no additional cost to you
Helping you stay on track
There's no need to call ahead for your refills or stand in line with CenterWell Pharmacy mail delivery. You can sign up for free medication refill reminders, so when it's time to refill, we'll call, text or email you based on your communication preferences. You can also enroll eligible medications for auto refill, so you never miss a dose. Please note auto refills are unavailable for specialty medications. And with the CenterWell Pharmacy mobile app, you can set custom medication reminders to help you take your medications at the right time.
Make the switch to mail delivery
Make getting your medications one less thing for you to do. CenterWell Pharmacy offers free safe and secure mail delivery to you, and it's easy to get started. Just give us a call at 800-379-0092 (TTY: 711), Monday – Friday, 8 a.m. – 11 p.m., and Saturday, 8 a.m. – 6:30 p.m., Eastern time, and we'll be happy to help.
Disclaimer: Other pharmacies may be available in our network. You can locate network pharmacies by visiting Humana.com/finder/pharmacy.